Apr 10, 2023 09:00 AM Central
Nick Gonzalez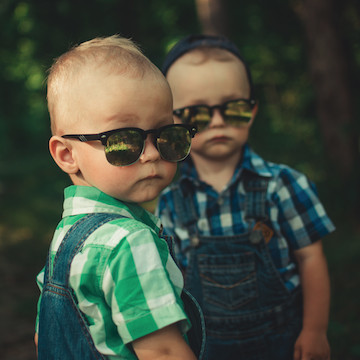 Every year, April 10th is celebrated as National Siblings Day (at least since 1995.) It's a day to think about the importance of our brothers and sisters and to celebrate our relationships.
Most of the time, when we hear about sibling rivalry, we think about children fighting. But the truth is that many brothers and sisters fight well into their adult lives.
When we grow up and get married, our relationships with our siblings can become more complicated. Sometimes, getting married can bring siblings closer together, but it can also create problems if one sibling feels left out or if one is less available than before. When brothers and sisters argue for attention or resources (or simply fight), this is called sibling rivalry.
Keep in mind that sibling rivalry is expected, at least to a certain extent. But then there are times when you must excuse yourself and leave the room. So, what do brothers and sisters usually fight about?
Here are some of the most common types of adult sibling rivalry:
Competition for attention: Siblings may compete for the attention of their parents or other family members, leading to jealousy and resentment. Picking dates for family gatherings and party planning can also lead to sibling rivalry.
Comparison of achievements: Siblings may compare their achievements, such as education, athletic success, careers, marriage, children, and finances, leading to feelings of inferiority or superiority.
Fighting over possessions: Siblings may fight over toys, clothes, or other possessions, leading to arguments and conflicts.
Birth order: Older siblings may feel threatened by the arrival of a younger sibling and compete for attention, while younger siblings may feel overlooked or overshadowed by their older siblings.
Personality clashes: Siblings with different personalities may clash, leading to disagreements and conflicts.


Aging parents & caregiving. Now that people are living longer, parents need more supervision and, in some cases, 24/7 care. Deciding which siblings will care for their mom or dad, how the responsibility will be shared, or who will pay for outside support is essential. These decisions are life-changing and costly, especially when you plan to live your life one way and now must be a caregiver. Even after decisions have been made, there can be feelings of resentment. If you are a caregiver (even part-time), I recommend joining a support group for caregivers. Others in the same situation as you and worse will be able to give you experienced insight and support. You also learn to be more grateful and graceful. Plus, you will discover that you are not alone. I wrote about my experience with being my wife's caregiver here.


Money. Many people can get along just fine until they need to talk about money, especially if they believe they need to oversee it or share it. I'm referring to inheritances, estates, and wills. There are too many wonderful families that end up divided because of money. It's still true; people get funny when you talk about money. AARP wrote a great article about this challenge.
So how can you minimize sibling rivalry?
First, recognize that sibling rivalry is normal and can be a healthy part of marriage. However, it's also essential to communicate any problematic issues. Then, look to work together and put aside your differences. Understand that your family is growing, and things may be different. Give each other some time to process the situation. Spend quality time together when possible, enjoy each other's company, support each other in difficult times, and celebrate each other's success. And don't forget to pray for each other.
If you focus on these things, siblings can strengthen their relationships and build a stronger, more supportive relationship that lasts a lifetime. So, on National Siblings Day, let's celebrate the love and connection between siblings.
Here are a few suggestions on how to celebrate National Siblings Day with your sibling.
Give your sibling a call, text them, get all of your siblings together on a group chat, and have a video celebration; read a book together if you are near each other, go out to eat, for a walk, or visit them soon.
If you're currently mad at your sibling or there are "issues" in your relationship, check yourself. Ask yourself if you are being selfish, and try to see the situation from your sibling's point of view. Apologize if necessary. See a family therapist. It could be that your sibling is going through other difficult situations like sickness or marriage trouble, and it's really not you, or the thing you are fighting about that is the problem. Consider speaking with your sibling's spouse to ask if everything is okay. If there's nothing you can do, then you may just need to wait for your sibling to snap out of it. Give them some space. And it's during this time that you pray for them and yourself.
Remember, you can pick your friends but are stuck with family.
Here are 10 Biblical affirmations to encourage you.
"How good and pleasant it is when siblings live together in unity!" – Psalm 133:1
"Above all, love each other deeply because love covers over a multitude of sins." – 1 Peter 4:8
"Be completely humble and gentle; be patient, bearing with one another in love." – Ephesians 4:2
"Do not let any unwholesome talk come out of your mouths, but only what is helpful for building others up according to their needs, that it may benefit those who listen." – Ephesians 4:29
"Therefore encourage one another and build each other up, just as, in fact, you are doing." – 1 Thessalonians 5:11
"Do not repay evil with evil or insult with insult. On the contrary, repay evil with blessing, because to this you were called so that you may inherit a blessing." – 1 Peter 3:9
"Finally, all of you, be like-minded, be sympathetic, love one another, be compassionate and humble." – 1 Peter 3:8
"Bear with each other and forgive one another if any of you has a grievance against someone. Forgive as the Lord forgave you." – Colossians 3:13
"But the fruit of the Spirit is love, joy, peace, forbearance, kindness, goodness, faithfulness, gentleness and self-control. Against such things, there is no law." – Galatians 5:22-23
"Let us not become weary in doing good, for at the proper time, we will reap a harvest if we do not give up. Therefore, as we have an opportunity, let us do good to all people, especially to those who belong to the family of believers." – Galatians 6:9-10.
Happy National Siblings Day!!!!!!